New Design Process & Timeline
It is important to address the current climate in the design and construction industry. We are currently working on designs that are at least a year in advance of the actual renovation. Good contractors are currently booking winter 2023/2024.
Therefore, we have restructured the design process into three phases that will be completed at various stages over the course of the next 12 months:
Design Concept & Drawings
The design concept & development will need to be completed in order to obtain a more actual estimate for the construction once we have a clear direction of the project scope.
These drawings will be provided to our cabinetry specialist in order to finalize the cabinetry design, establish pricing and process the order.
Product Selections
It is best to start the product selections within 6 months prior to your renovation. During this current climate, suppliers cannot guarantee the pricing and availability of the products and materials for 2023/2024.
This avoids having to reselect products again, storing products in your home for over a year where they can be damaged, or missing out on new products that will be launched next year!
Project Management
We will coordinate with the contractor approximately 1 month prior to the commencement of your renovation to schedule all site visits during construction.
Design Process Timelines
The design process varies for each individual, the project scope, and the number of projects that we are working on. However, due to the current climate in this industry, timelines can vary.
Here is a list of approximate timelines for these specific projects that will be completed at various stages over the course of the next 12 months:
Kitchen 3-4+ months
Bathroom 2-3+ months
Interior Design 4-5+ months
Addition 4-6+ months
New Build 6+ months
If you are interested in our personalized design process, please read more about it on the website or download the PDF document.
Design Services
Included is the following when you invest in our design services:
Design concept and development using 3D design software
Virtual meetings to review design concepts
Electronic copies of all designs
Final construction drawings
Product and material selection
In-person meetings to review materials
Project management throughout the renovation
Contractor Referrals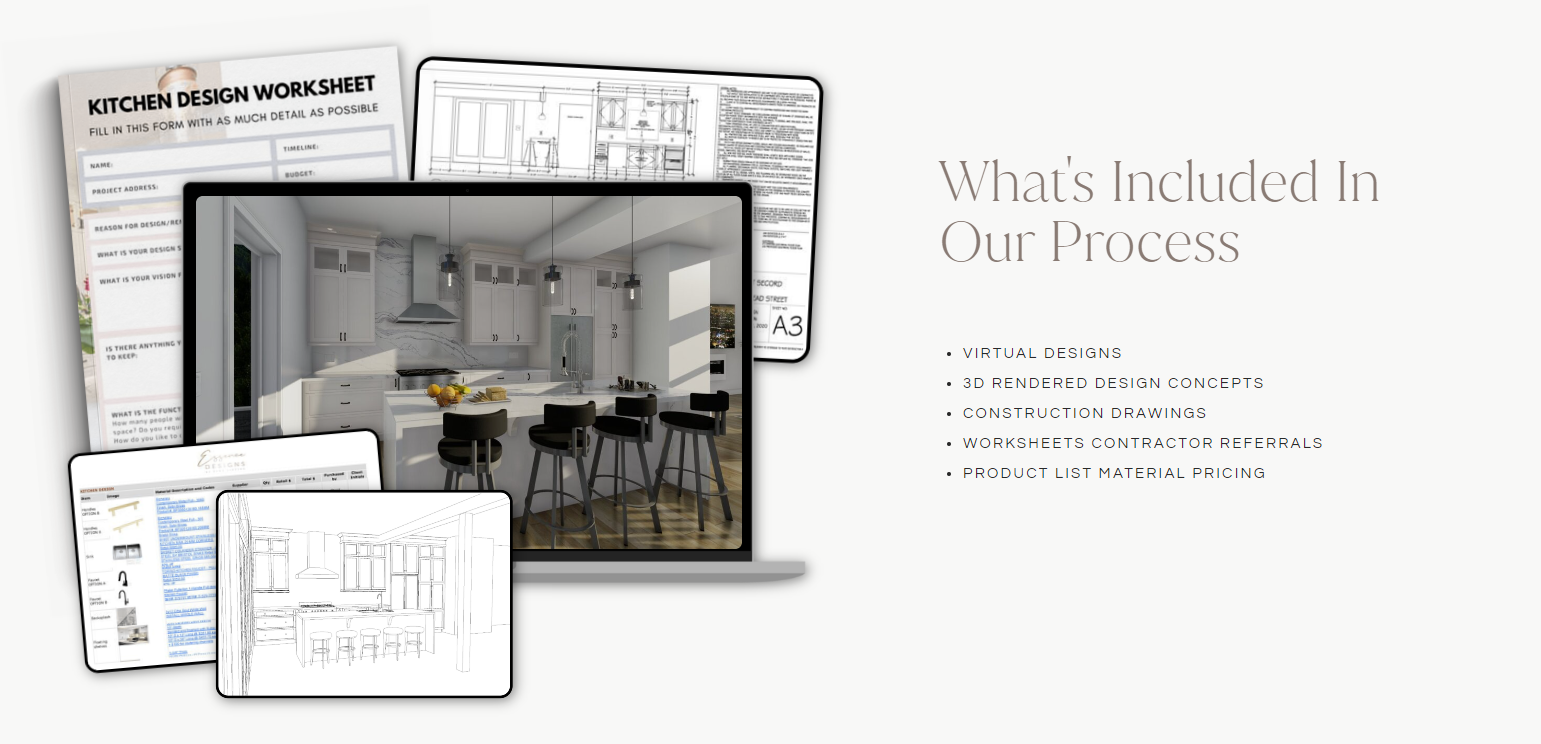 Answers to some common questions
Do you provide only the design or are you able to provide renovation services?
The first step of any renovation project is the design! We will work with you to prepare the design concept and drawings. Once the design is determined, we focus on specifying all the products and materials.
If you are looking for a renovator, we are more than happy to provide you with a list of reputable contractors that we work with regularly. Our preferred contractors have over 10 years of experience in this industry.
Our contacts understand our specifications and have worked with us for many years. We have dedicated years of work to streamline our process and built an incredible team relationship over time.
We have done the backend work to do our best to ensure there are no hiccups and issues throughout the renovation process. Our team will also stand by their work and guarantee anything that might be flagged later.
Our recommended contractors take on full projects only.
I already have a contractor – will you work with them?
Absolutely! We are more than happy to work with your contractor. We recommend that we meet at our initial design consultation to make sure we are all on the same page with the budget and expectations of everyone's roles. Obtaining a list of the approximate material allowances from your contractor is very helpful.
Anytime there is a new relationship with a contractor, there is always a learning curve trying to develop a working relationship and understand each other's specifications. That requires additional time spent communicating with your contractor and onsite visits to ensure your vision is executed properly.
This is why we provide full-service design, including project management.
Do you assist with the renovation?
The Essence Designs' experience is never going to leave you high and dry or leave it up to the possibility of errors or miscommunications.
We will check in on-site throughout the renovation phase for every one of our clients. Being in the industry for over 10 years, we have seen little errors that take away from your final project's overall "essence". Whether that is changing the location of a switch, ensuring a specific element is centered, products are not damaged, etc. We are here to oversee your design renovation.
What do our past clients have to say about working with Essence Designs?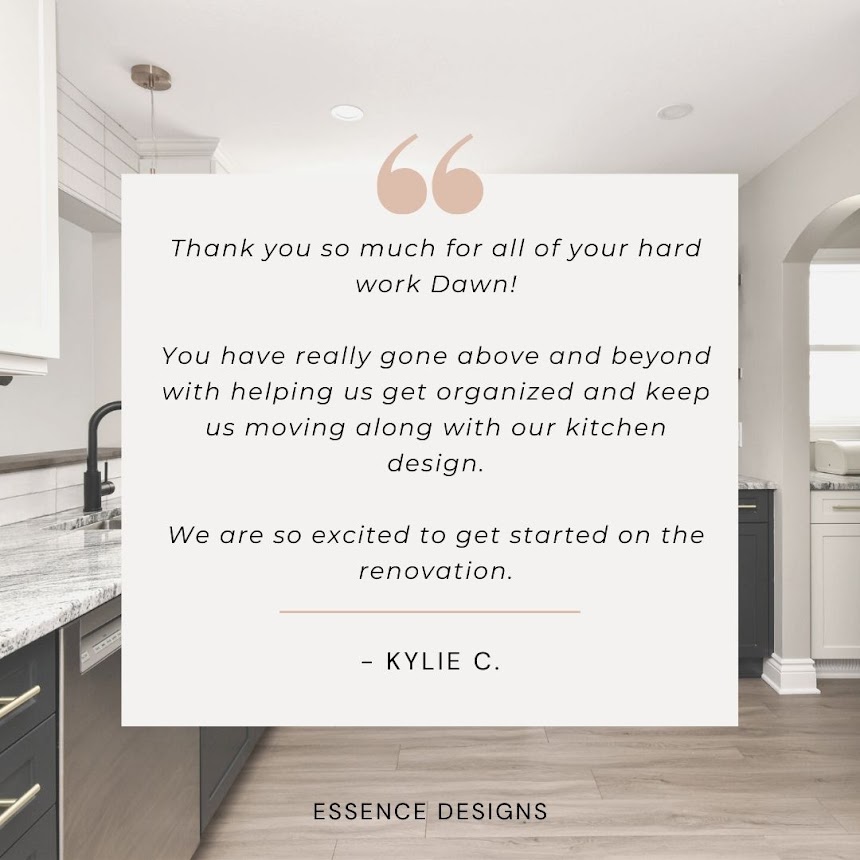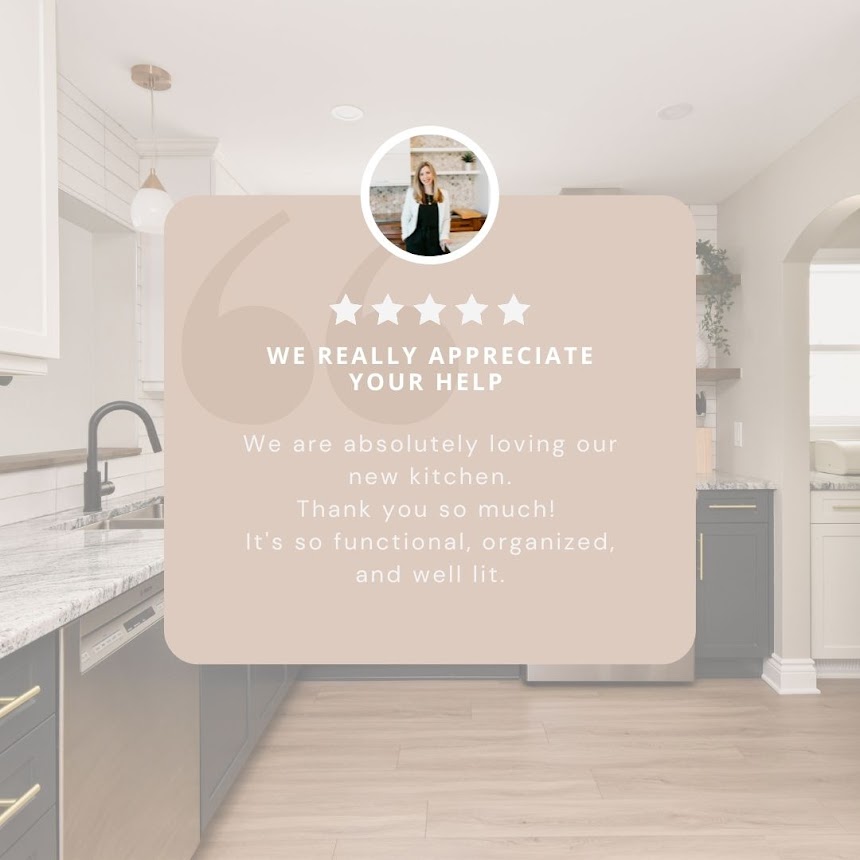 Start today!
It's best to schedule a quick 15-30 minute phone call or virtual meeting to discuss your project further. This will provide us with a clear understanding of what you are looking for from a designer and how we can assist you with your design project.
​Contact us here to complete the online form and we will send you the information to book your free discovery call.